BI-FOLD SLIDING DOORS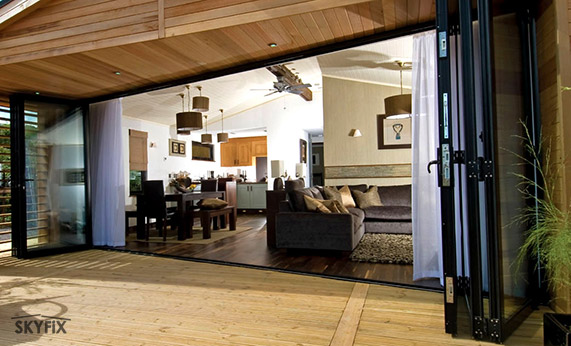 Unlimited options
With Skyfix hardware there are no limits to the design possibilities for your folding sliding door. Top or bottom rail, inward or outward opening – it makes no difference. Skyfix hardware systems give you unlimited choice.
A ball-bearing raced roller and folding hinges combination enables smooth and easy operation.
Painted hardware cover caps offer a wide range of colour options for your door.

Light, air and space – exactly as you would like it
The new Skyfix folding sliding door hardware from Skyfix allows you to move the folding door to the side safely and easily, maximising the opening and allowing easy access to the outdoors. Using up to 7 sashes, you can create an opening of up to 6.3 meters.
PRODUCTS
GLASS PRODUCTS

WINDOWS / DOORS / CONSERVATORIES

OPTIONAL ALUMINIUM COLOUR CODED PRODUCTS

GLASS ROOFS

BUILDING & CONSTUCTION SERVICES