uPVC WINDOWS AND DOORS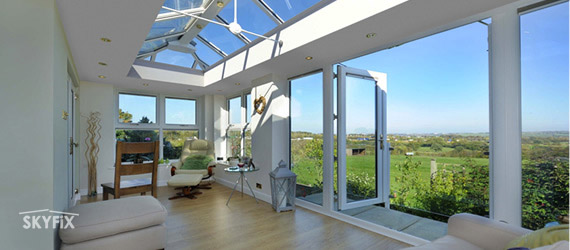 At Skyfix we are proud of our high quality UPVC windows. Our UPVC double glazing collection uses an innovative frame material that looks and feel as warm and full of character as wood. Our windows are secure, look great and overall are very affordable!
Security innovation is built into every unit in the Skyfix double glazing collection. The locking technology at the heart of every window incorporates espagnolette shoot bolts with up to 6 locking points. The prevention of accidents is also a priority, fire escape hinges are designed to keep young children safe and secure.
The Skyfix double glazing collection offers you a whole palette of sculptured profiles, a complete spectrum capable of complementing, enhancing and transforming everyone's dream for every style of home.
Our range of windows and doors are compatible with a range of accessories, locking mechanisms and are available in a wide range of colours and finishes that comply with all relevant British and/or European standards. Compliance with Document L for thermal transmittance applies.
Skyfix window and door systems offer excellent weather performance/ratings in accordance with the requirements of British Standards.
PRODUCTS
GLASS PRODUCTS

WINDOWS / DOORS / CONSERVATORIES

OPTIONAL ALUMINIUM COLOUR CODED PRODUCTS

GLASS ROOFS

BUILDING & CONSTUCTION SERVICES