Innovative technologies in production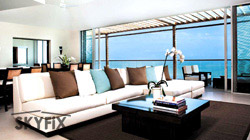 There's a wide range of companies
offering conservatories, Bi folding doors, Skylights, Orangeries and many other double glazed products but they all tend to restrict you with a limited choice of styles and materials. At Skyfix & Co. Ltd we're experts in timber, aluminium and PVCu, the choice is as extensive as your imagination!
What's more, we offer a complete Internal & External refurbishment service, nationwide coverage, have many years experience and provide a complete service from bespoke design to planning, building, construction, project management and installation to the finishing touches for complete peace of mind.
For all services we have been building relationships with clients for many years and have grown into one of the most trusted names in the field of bespoke construction, internal and external property refurbishment and restoration. We also have extensive knowledge and years of experience in bespoke structural and architectural glass and double glazing projects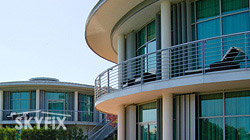 As an owned and operated business,
we only employ staff and individual contractors with a proven track record. We pride ourselves on the dedication efforts and quality-first approach taken by each staff member.
All our staff members understand and promote the quality-first performance for which this company is known.
We provide the highest quality in designing, planning, building and installation services consistently exceeding the expectations of clients.
Professional Dedicated and Reliable. Our dedication to customer services is exemplified by our team with a collective industry experience of over 65 years, enabling an unmatched quality control.
As the market place and clients' needs have changed over the years so we have evolved to stay at the leading edge of designs and products.
Now more than ever, new technology, products & ideas allow us to customize your projects to your own personalities.
We at Skyfix & Co. Ltd open the door wide to endless possibilities for our clients to help them realize their potential.
When building with us you can rest sure and safe in the knowledge that your project is our highest priority from conception to completion and your potential is only limited by your imagination.
We welcome any enquiries which will challenge our designers.
PRODUCTS
GLASS PRODUCTS
WINDOWS / DOORS / CONSERVATORIES
OPTIONAL ALUMINIUM COLOUR CODED PRODUCTS
GLASS ROOFS
BUILDING & CONSTUCTION SERVICES