EXTENSIONS AND LOFT CONVERSIONS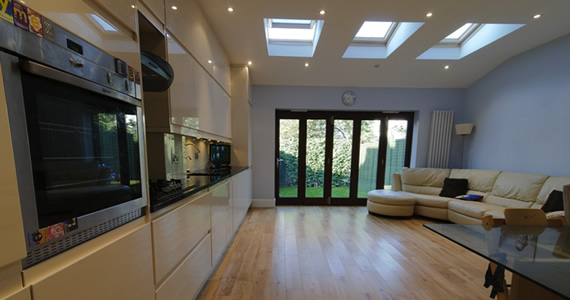 From small scale extensions such as porches and one room extensions to large scale developments like Annexes, of two Storey Extensions, a loft office conversion or a loft ensuite bedroom Skyfix & Co. Ltd. can cater for all extension and loft conversion needs.

Your home is probably the biggest single purchase you will make in your life, and with this in mind, we aim to enhance and improve your investment by designing your proposed Home Extension or loft conversion carefully to suit your own personal style, requirements and budget. Home is a place everyone can associate with and, for this reason, it is essential that improvements, extensions and loft conversions are done sympathetically to each owners requirements, whilst protecting the amenity and appearance of the property.

With years of experience in the field of residential and commercial extensions and loft conversions in London and Home Counties you can be rest assured that your project is in safe hands. Skyfix & Co. Ltd. design and build services will make certain that all legal building requirements are taken care of including Architectural Plans to full Building Regulations. The benefits of having an extension or a loft conversion are almost endless, giving you more space, more flexibility and not to be forgotten, a significant increase in the value of your property.

We have many delighted customers with our quality extensions, loft conversions and ground works throughout the London area. Our experience of the building trade is unsurpassed and we can provide you with the highest quality service at affordable prices. Please feel free to give us a call to discuss your requirements.

At Skyfix & Co. Ltd. we've been turning concepts and ideas into reality by adding useful living space to existing homes with professionally designed & built extensions and loft conversions. Suffice to say that our team including qualified designers, builders, joiners, roofers, plumbers, plasterers, electricians etc. who have a vast knowledge and experience in the construction industry ensure all aspects are carried out to the highest quality. The service we deliver is competitively priced, professionally finished and tidily carried out to create the minimum of disruption to our customers, within the initial time scale given.
PRODUCTS
GLASS PRODUCTS

WINDOWS / DOORS / CONSERVATORIES

OPTIONAL ALUMINIUM COLOUR CODED PRODUCTS

GLASS ROOFS

BUILDING & CONSTUCTION SERVICES