glass balustrades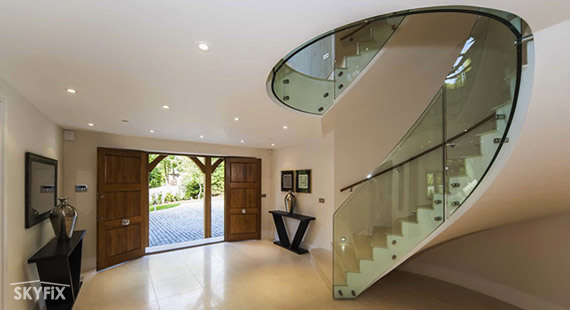 Our tailor made balustrades maximise your property's potential, revitalising tired hallways and entrance halls to unleash space, light and luxurious up to date design. Contemporary glass designs open up interiors adding value and style.
Skyfix work closely with Designers, Architects and Homeowners on refurbishments, renovations and new build to increase the value of your property with high quality glass balustrades.
Balustrade Types
The following glass balustrade fixing systems are available, each working with different situations and structures:
* Glass Balcony Systems
* Bolted Glass Balustrade Systems
* Glass Balustrade Clamping Systems
* Channel Set Glass Balustrade Systems
* Curved Glass Balustrade Systems for Spiral Staircases
* External Glass Balustrade Systems
* Post & Clamp Glass Balustrade Systems
* Post & Rail Glass Balustrade Systems
* Resin Set Glass Balustrades
* Fire Rated Laminated Glazing in accordance with BS 476 PART 22 1987. Class 2B2 safety in accordance with EN12600. 36dB (RW Index) acoustic sound reduction in accordance with EN12758.
Skyfix & Co. Ltd technicians are fully trained and experienced in architectural glass applications and provide an all encompassing service, working with you from initial design sketches and site survey to templating and installation. Glass balustrades are manufactured to British Safety Standards and Building Regulations, providing you with a structural glass balustrade for maximum use and function.
Skyfix & Co. Ltd Frameless Glass Balustrades maximise light flow and space within properties. The bolted glass balustrade system is particularly versatile in application, providing a safe, durable product, suitable for a wide range of staircases and structures. The glass balustrade panels are fixed directly into timber, stone or metal.
PRODUCTS
GLASS PRODUCTS
WINDOWS / DOORS / CONSERVATORIES
OPTIONAL ALUMINIUM COLOUR CODED PRODUCTS
GLASS ROOFS
BUILDING & CONSTUCTION SERVICES