ROOF WINDOWS AND LANTERNS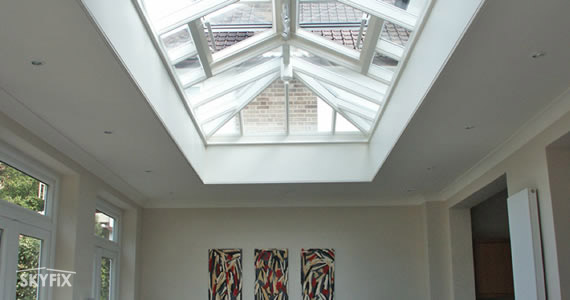 All our glass roof lanterns and Rooflights are perfect for letting natural light flood in from above to give wow factor to any room with a flat roof.

With a choice between contemporary looks with clean lines for maximum light transmission or the more traditional design with a range of finial and cresting as well as colour options, you can be sure to find a roof light to suit your project.

Bespoke Glass Roof windows, Roof lights, Skylights and Atriums provide an excellent method of introducing natural light into any room that permits. Glass roof lights tend to be less obtrusive than windows and facades and offer greater flexibility when designing a room's general aesthetics. The terms glass roof light and glass skylight are normally used to describe the same product (a relatively small glass atrium roof). The term glass atrium is normally used to describe a much larger glass roof application. Our bespoke glass Roof window, roof light, glass skylight and glass atrium designs are developed to meet any individual contract's aesthetical and technical requirement.

PRODUCTS
GLASS PRODUCTS

WINDOWS / DOORS / CONSERVATORIES

OPTIONAL ALUMINIUM COLOUR CODED PRODUCTS

GLASS ROOFS

BUILDING & CONSTUCTION SERVICES