BESPOKE & COMPLETE PROPERTY SERVICES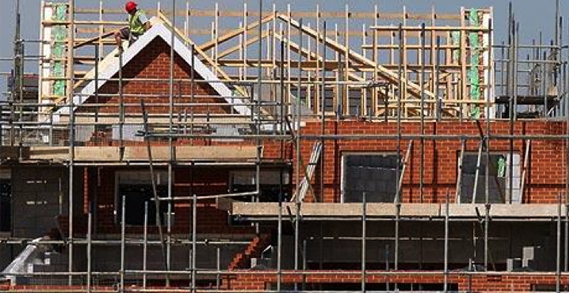 BESPOKE & COMPLETE BUILDING SERVICES
Skyfix & Co. Ltd builders and property services have been building relationships with clients for many years and have grown into one of the most trusted names in the construction field.
As an owned and operated business, we only employ staff and individual sub contractors with a proven track record. We pride ourselves on the dedication efforts and quality-first approach taken by each staff member. All our staff members understand and promote the quality-first performance for which this company is known. We provide the highest quality construction services consistently exceeding the expectations of clients.
Professional Dedicated and Reliable. Our dedication to customer services is exemplified by our team. Full time builders, project managers and finishing crew, headed by a management crew with a collective industry experience of over 65 years, enabling an unmatched quality control.
As the market place and clients' needs evolved over the years so did we, we strive to stay on the leading edge of construction technology. Now more than ever, new technology, products & ideas allow you to customise your projects to your own personalities. We at Skyfix & Co. Ltd open the door wide to endless possibilities for our clients to help them realise their potential. When building with us you can rest sure and safe in the knowledge that your project is our highest priority from conception to completion and your potential is only limited by your imagination.
We Specialize In Four Distinct Areas Of Construction:
* Domestic
* Retail
* Commercial
* Industrial
We offer a complete service in all your Internal and External needs.
The enduring evidence of performance is not only in the projects completed, but also in the confidence, trust and relationships created with each client over the years.
BESPOKE INTERNAL and EXTERNAL BUILDING SERVICES
At Skyfix & Co. Ltd we provide a complete solution to all your construction needs. Whatever your requirements are, we are able to assist. What's more, you can be sure that you will receive a personal and professional service at all times and that no attention to detail will be spared.
Outlined below are some of the core and main services we offer:
Project Management: Nobody ever has enough time! However at least when you deal with Skyfix & Co. Ltd you have one less thing to worry about. We are able to look after everything for you through our project management service, however big or small the project may be.
Design and Planning: Our knowledge and expertise in the construction industry through our team of architects and surveyors can look after all your planning and design needs from an initial query to plans and concepts, to helping with planning applications. We aim to provide solutions that not only meet but exceed expectations.
Interior Design: We offer specialist interior design service of the highest standard and quality to both residential and commercial sectors. We can help you make the most of your space and assist in the creation of stunning and practical living environments. Everything can be arranged including: Brick Laying, Partitioning, Open Plans and Structural Work and Alterations, Carpentry, Plumbing and Electrical Installations, Air-conditioning and Hot Air Distribution including Split Systems, Plastering and Rendering, Flooring of All Types in All Materials, Under floor Heating Systems, Tiling of All Types, We can Also Source, Cut and Fit Natural or Manmade Stone Work for Kitchen Counter Tops, Bathroom Vanity Units or Fireplace Surrounds, General Internal and External Painting and Decorating Including Restoration and Renovation Works to any surface.
New Developments and Extensions: We can take your new development or extension from conception (planning the development) to fulfilment (the final touches such as decorating and lighting designs). We will make the whole experience as easy as possible for you and you can be sure that all work will be to our usual high standards.
Property Maintenance: Whether you want us to look after your main residence, offices, or portfolio of properties, we are able to look after all your maintenance needs from general decorating, to roof repairs and specialist garden maintenance work.
Carpentry: Whatever your requirements, from some simple repairs, book cases or shelves to bespoke creations such as a new staircase, we are able to help. Our skilled tradesmen can carry out both large scale work and intricate bespoke work as required.
Kitchens and Bathrooms: We can arrange anything from some small work to a brand new kitchen or bathroom. Whether you want to use fittings and appliances from a well known supplier or you want us to create a bespoke design for you. We are confident you will be happy with the end result.
Your kitchen is the heart of your home, and we know how important it is to our customers to have a kitchen that is both practical and beautiful. That's why we work with you to design and build your perfect kitchen, based on your exact requirements. Our team will visit your home and provide design advice and ideas, but the key thing we do is listen to what you want. We design the kitchen around you, and will complete every element, from fitting, to plumbing, to electrics, to flooring, tiling and decorating to ensure that you have the minimum of disruption to your life during the project.
Upgrading your existing bathroom or adding a new bathroom or en-suite can transform your home and add value to the property. At Skyfix, we're experts at helping our customers design and create their dream bathroom, offering a full service from the planning stages right through to the finishing touches.
Insurance Repairs: Accidents happen! Fire, intruders, flood damage are all sadly problems that people have to face. If you are unfortunate enough to have an insurance claim, we are able to look after everything for you. We can work with insurance companies and loss adjusters directly to make the process as easy as possible for you. You will have one point of contact to handle everything for you.
Lighting Design: Lighting can change a living space dramatically. Our specialist lighting service offers a bespoke solution to all your interior and exterior lighting requirements. You will be amazed how some clever lighting can improve the environment you live in.
Plumbing, Heating and Air Cooling Systems: Finding a good reliable plumber can at times be next to impossible. We provide a quick and simple solution to any problem you may have as well as a simple solution for any new plumbing installation requirements. Selecting the best heating or air conditioning system can be a complex process, and requires expert knowledge as every space and project is different. At Skyfix we have many years of experience in selecting, installing and maintaining heating and air conditioning systems, and so we can ensure you get the best possible system for your space.
Our team includes experts in their field with a wide range of experience of working on plumbing and heating projects, plus we're are gas safe registered which means we're fully accredited to provide safe, high quality gas fitting and central heating services.
Electrics: It is vital to have all your electrics in safe working order. We can sort out any problems you have, arrange safety checks, issue safety certificates and carry out any new rewiring work required including electric gates installation. We offer a full range of internal and external electrical work including rewiring, lighting, sockets, appliances and fuse boxes. All our electricians are fully qualified and we are members of the National Inspection Council for Electrical Installation Contracting (NICEIC) which means we adhere to strict standards of safety and quality.
We also offer outdoor electrical fitting including extending your supply to outbuildings or sheds, security systems, gates and outdoor lighting. Our outdoor specialists will plan and fit your outdoor electrics using specialist materials and to exacting safety standards.
Painting and Decorating: All your interior or exterior painting and decorating can be undertaken by our expert workmen. We will work to the highest standards bringing life to any surface or feature, whilst causing as little disruption as possible and being sympathetic to the surroundings.
Landscaping and Garden Design: We offer a full and complete expert landscaping service. Using our rich experience we can help you turn your dream garden into reality. As well as general landscaping, we can also build out-buildings, driveways, paving, ponds, water features, indeed, whatever is required. We can also help select suitable tree species', shrubs and plantations sourced directly from main specialist suppliers to include exotic and established trees and plants such as Palms, olive trees, grape vines and fig trees.
Double Glazing: Using years of successful installations in this field we offer a broad range of services to include: - New Conservatories – Glass Floating Roofs with seamless support – Walk-On glass-Complete PVCU, timber or aluminium powder coated windows and doors. – Specialist bespoke powder coated Bi-Folding doors including structural work – Skylights, roof windows, bay windows and French doors – VELUX windows supplied and fitted, glass laminated and reinforced balustrades to include staircases. Whatever your requirements we are here to assist.
The key difference with Skyfix & Co. Ltd is that we provide impartial advice to all our customers – we often advise our customers against going ahead with a project if we don't think it's the right thing to do. Our core values as a company are integrity, honesty, quality and professionalism. We never compromise any of these for profit, so you are guaranteed the best advice for you.
In summary whatever your construction needs or requirements, why not contact us, so that you can experience our professional and personal service first hand.
PRODUCTS
GLASS PRODUCTS

WINDOWS / DOORS / CONSERVATORIES

OPTIONAL ALUMINIUM COLOUR CODED PRODUCTS

GLASS ROOFS

BUILDING & CONSTUCTION SERVICES