GLASS STAIRS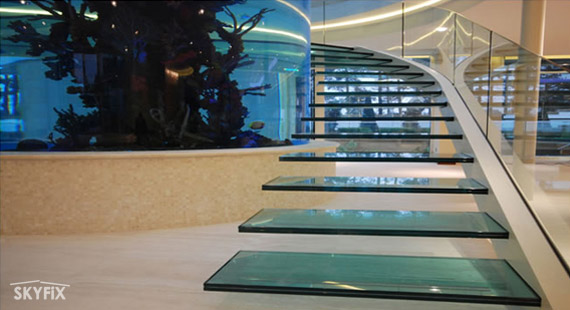 Stairs connect "living" spaces... in a traditional wooden house just as much as in a prestigious villa or in a company. Thereby the stairs, as an important design element of architecture and interior design, reflect the lifestyle and individuality of the inhabitant. The materials emphasise the attitude to life: Wood, stone, steel or glass give artistic accents and transform rooms.

You cannot only see stairs, but also sense, hear and feel them. Even on the first step you notice whether you are walking comfortably. Do the stairs creak softly under your feet? Does the hand rail feel comfortable? Only quality makes a staircase into a pleasant experience ... for all the senses. This requires a competent consultation and precise planning as well as skilled handicraft.


Hereby the stairs can be straight or turned with landing, curved or helical. Also spiral stairs with central column have been developed. All shapes are possible. The railings can be used as glass walls or just running upwards besides the staircase. Your imagination has almost no borders with stairs in structural glass.
Very often we at Skyfix are using the extra white glass with low iron. It has no green colour touch even if it is very thick. This makes the stair almost invisible. For instance if you choose to have timber treads they almost look like flying because you can barely see the structural railing.
Further possible features for glass stairs are treads with LED lights in changing colours or privacy glass which is getting dark when you walk on it. We do work with latest technology to fulfil your dreams.
PRODUCTS
GLASS PRODUCTS
WINDOWS / DOORS / CONSERVATORIES
OPTIONAL ALUMINIUM COLOUR CODED PRODUCTS
GLASS ROOFS
BUILDING & CONSTUCTION SERVICES